YAS News - Week 6, Term 3
A note from the Principal
There have been so many things happening across the school during this term. The return to school after the lock down brought with it the requirement for face mask use – with complex and differing demands for primary and secondary students, staff and parents. The Department for Education (DfE) has advised for mask wearing to continue. We will advise you as soon as this changes. I really want to say "well done" - to all of our secondary students for running with this as smoothly as you have.
Related to this is the DfE directive for volunteers, non-essential visitors and parents to remain off school sites as much as possible to minimize risk. Again, thankyou for your understanding.
We have changed over to a new format for our webpage, this is a one stop shop for information. Up to date information, newsletter articles and Facebook posts will all be able to be accessed from our new web page. The newsletter articles will also be able to be accessed through an app on your mobile phone; there is a QR code with instructions on this page. If you need any help in accessing the app, please contact us at the school and we will be more than happy to help.
Week 5 was science week, and it was great to see so many classes getting involved in a variety of science activities. Primary teachers organised buddy class activities, middle years science teachers Connor Jones and Georgina Thomas provided workshops for junior school and primary students, Emma Zimmerman and Sam Hartwell organised STEM activities and Carmel Taylor and Phil Noel invited classes up to the Indigenous Garden to prepare and taste damper.
The week ended with a science extravaganza where Connor Jones entertained students in the quadrangle with spectacular experiments. A terrific effort from everyone involved.
Book Week is this week and we are looking forward to seeing the students all dressed up. This year's theme is Old Worlds, New Worlds, Other Worlds.
On Monday 30th August Year 11 & 12 students will be involved in Course Counselling for 2022 subjects. Parents can make a time to meet with staff through a link that has been sent out. Please contact the school if you have any queries regarding the Counselling session.
As I have stated in a previous newsletter, the new fencing will begin before the end of the year and will begin in the car parking area at the front of the school. A letter will be sent home shortly with more information.
I would like to take this opportunity to remind you that there is a School Closure Day coming up on Wednesday 8th September.
Kind Regards, Sonia
Administration Update
A thank you and a reminder to parents/caregivers to please continue to not enter school grounds while the current COVID restrictions are in place.
If you have an arranged meeting with a staff member, you will need to follow all COVID requirements as directed.
The Finance Office is not able to process in-person payments at the moment. We have recently invoiced families for payments for several camps/excursions.
If possible, we would appreciate if you are able to pay through B-Point via the school website.
*If you need to pay via cash or EFTPOS, please wait by the sign inside the front door of the school and a staff member will attend to you there. The same process applies for uniforms sales.
Thank you so much for your continued co-operation and flexibility.
WHS Committee
REMINDER = the 2021 Parent Survey closes this Sunday 29th August. Parents and caregivers of school-aged children and young people are invited to complete the survey, which takes less than 10 minutes. This survey gathers information from parents and schools across SA. It gives a broad picture of how parents engage with schools. Please click HERE to access the survey.
Hari Merdeka at Yankalilla Area School
In Week 5 some of our classes celebrated Indonesia's Independence Day by playing some of the games that are played in neighbourhood competitions all over Indonesia on 17th August.
The 7/8's tried a modified (the real game uses flour!) relay game, passing a plate of rice down their team line and then 'running around a marker'. Some of the 8/9's tried the Animal Pop Dance challenge, it was interesting to see who could last the distance and win the challenge. Emmy claimed Juara dunia (world champion) status in 8/9B. In 8/9A Sienna and Tahlia were pretty good at the "ayam" (chicken).
In the junior classes, they tried other games, like the marble and spoon race and another version of the rice plate game.
Next year, we hope to be able to link up with our sister school in Makassar and join them for some of the celebrations happening in Indonesia.
A note from our Pastoral Care Worker
A BIG HELLO to our YAS community, it has been quite a while since my last communication with you.
I sent this picture to our staff last week. I also wanted to share the sentiment with you all.
I would like to acknowledge your willingness to be adaptable during these crazy covid times..
With QR codes, sanitiser, masks, signing in, drop off at the front door, restrictions to entering the school...it sure has been a challenging time for all.
The buzz of the playground before/after school is certainly missing, but let me encourage you, your children are doing great! The confidence and independence of all the students, especially the little ones, grows daily.
Saying "good morning' to them as they climb up the stairs, put their hands out for sanitiser, then entering the school on their own, sorting out their bags etc, continues to be a positive start to the school day. We applaud their resilience (and yours).
In case you ever thought 'I can't do it'..... let me remind you - you can, you have, and you are!!!
Please reach out if you have any concerns.
Wendy Lindsay ❤️ Pastoral Care Worker
Middle Years Assembly
On Tuesday 17th August we held a special Awards Assembly for our Middle Years students. We recognized students who showed Meritorious Effort last semester by achieving Outstanding and/or Very Good for Effort in all curriculum areas.
We also presented AR Awards to students who achieved their reading targets last term. It was great to see so many of them.
It was National Student Volunteers Week the previous week so we also took the opportunity to recognise all our students who volunteer through SRC, the Leaders Program, the Canteen etc.
Phew! So many reasons to celebrate success! Keep up the positive efforts everyone.
Middle Years Assembly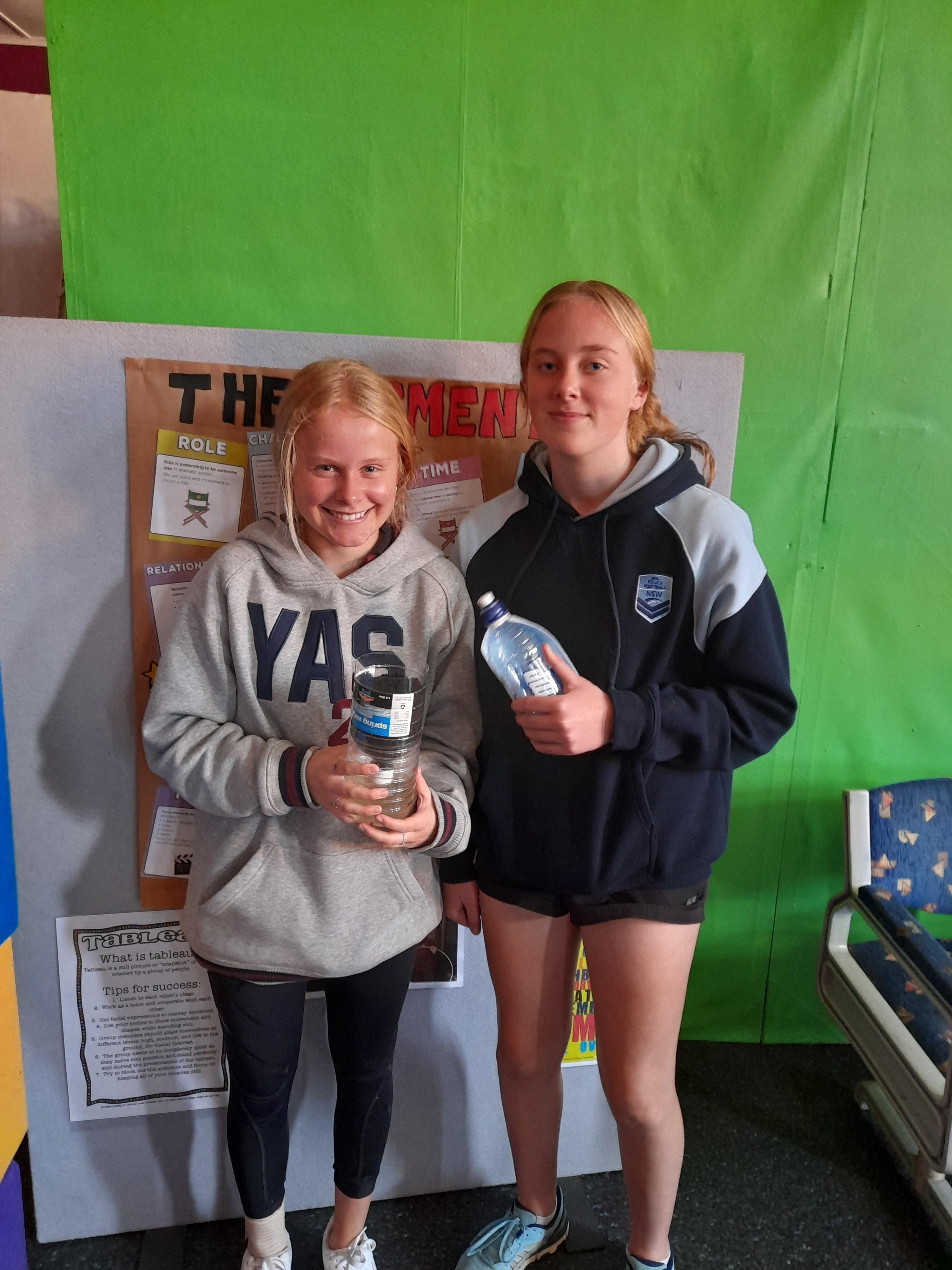 SSO Week
SSO Week (August 16-20) is an opportunity to celebrate the great work of non-teaching and support staff in public schools across the state.
At Yankalilla Area School, we value the enormous contribution our ancillary staff, including Administration, Classroom Support, Grounds and Aboriginal Education workers make every day to our children's learning and personal development.
Staff were treated to some yummy, individually packed treats along with some lovely messages from students to say thank you!
Science Week
In Week 5, Primary Years students participated in a variety of fun learning opportunities to celebrate Science Week. The theme this year was, 'Food: Different by Design'. Students recognised this theme through an Indigenous Perspective by exploring the inquiry question 'How do you think Australia's Aboriginal and Torres Strait Islander People used science to help them live in Australia and nurture the environment for over 60,000 years?' organised by Carmel Taylor and Phil Noel.
This involved preparing and tasting damper down at our Indigenous Garden. Classes participated in Science 'Buddy Activities' supported by our Middle Years Science classes and teachers.
We also had the STEM room open at break times with Lego construction, marble run and experiments. The week concluded with a Science show by teacher, Connor Jones.
A big thank you to all staff and students for making this week extra special!
Science Week - 2021
Comfy Clothes Day Fundraiser
On Thursday 19th August our school raised $202 for our comfy clothes day fundraiser. Students were asked to bring a gold coin donation which would go towards our end of year class celebrations. Thank you for your donations - everyone looked very "comfy".
Comfy Clothes Day